Although when installing SSRS 2008, you get an option to install in "integrated mode", "native" or "Install, but configure later", there is always this question that if I have setup my report server in the native mode how easy it would be to :

Switch my report server to the integrated mode

Switch my report server databases to the integrated mode

Okay, let me take a pause and answer the second question first because it is easier! You cannot shift your databases from native to integrated mode or vice versa. Report server databases contain mode-specific data and currently there is no process that I am aware of, to convert them over to the other mode. This means that if you've setup your report server in native mode and you've published your reports, once you make the switch, you ought to publish everything again to the new report server. Period!

However, the first question calls for a more visual kind of answer; therefore the main focus of this blog post. I have categorized the steps you require to take into two sections.

I) SSRS configuration Steps:

1) Fire Reporting Services Configuration Manager.

2) Connect to the right instance of the report server that you want to convert.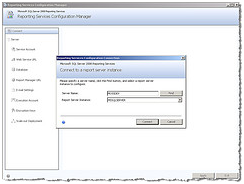 3) On the Service Account tab, choose the right service account under which SSRS windows service must be executed. There is this fantastic table here that provides service account recommendations for different deployment scenarios. Read up for yourself!

4) On the Web Service URL tab, change the tcp port, apply SSL if required. Don't forget to click on Apply button if you change anything on this screen. Here is what you should see in the result pane: