I finally got my awesome SharePoint workstation that I always wanted to have and added the new baby to my rapidly-growing collection of computers/servers that I keep in my basement:). Now , I really have to think about a solution to lower the noise generated by my computers ,in particular the new comer , otherwise I feel like I am riding a motorcycle after 10 minutes of being in the basement.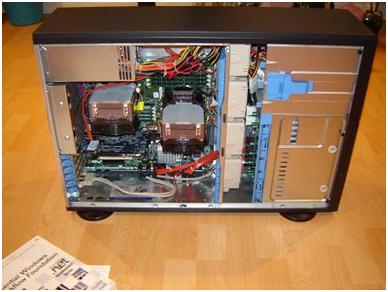 Here is another picture taken from another angle. My SharePoint machine specifications are:
I) SUPERMICRO H8DCE-O Dual 940 NVIDIA nForce4 Professional 2200 Extended ATX Server Motherboard:It supports Dual CPU and Dual-core Opteron.It is equipped with both PCI and PCI express slots. There is also onboard SATA or RAID functionality which makes it even nicer. [picture]
II) 2 dual core AMD Opteron 280 (WOF) 2.4GHz Socket 940 processors and 2 processor coolers – MASTER RR-CCH-L9U1-GP 92mm Hyper TX2:I confess that this the best processor I have ever owned. Super fast and rock solid! Processor coolers are a bit loud, but it has spectacular airflow, and keep the CPUs very cool [picture] [picture]
III) 8 GB of Crucial 184-Pin DDR SDRAM DDR 400 (PC 3200) Server Memory [picture]

IV) PNY VCG8600GXPB GeForce 8600GT 256MB 128-bit GDDR3 PCI Express x16 HDCP Ready SLI Supported Video Card:Well, I am not a gamer or Vista guy so it works perfectly for me, but its 2 DVI outputs is really cool for hooking up two monitors to the box. [picture]

V) SUPERMICRO CSE-743T-650B Black Steel / Plastic 4U Rackmount Case: It is a fantastic box with lots of room inside. It comes with 6 built-in cooling (also hotswap) to handle the hottest processors and it has 8 hot-swap SATA slots, mine has only five units so there is still room for another 3 extra hard drives. It is not a good looking box , but who cares?!! The only problem is that my small home server room is almost full with other computers , so I have to keep this next to my desk and admittedly it is loud!! very loud…I changed the BIOS setting to put the fans into SUPER QUIET MODE , but it is still loud. [picture]

VI) 750 GB of storage by five SATA drives (hotswap) with 150 GB capacity each, 1.5 Gb/s retrieval speed, 16 MB Cache, 10,000 RPM: It is god-damn fast , probably the fastest hard drive that I have ever seen ! I liked the crystal-clear lens on the drive to let you see inside and witness the drive in action. 10,000 RPM sounds promising for running multiple MOSS virtual machines ! [picture]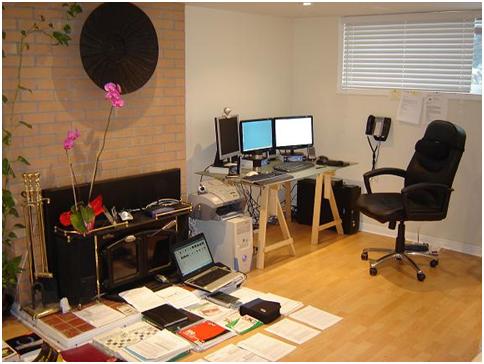 so far, I have run 4 simultaneous virtual servers (a MOSS Medium Server farm) on this computer and it performs awesome!