I get these questions a lot:
What does it take to be properly licensed for Office Web Apps?
Are Excel Services, Visio Services and Access Services part of Office Web App offering/licensing model?
What is the difference between Word Web App and Word Automation Services, as well as between Excel Web App and Excel Services?
Let's talk licensing first. Office Web Apps have no dependency on your SharePoint licensing model; instead they are licensed with Office 2010 Professional Plus and Office 2010 Standard licenses. If you have volume license for either Office Professional Plus or Office Standard, then you are already licensed for Office Web App. Install the bits on your SharePoint 2010 server or SharePoint Foundation server and enjoy the life…The difference is Office Professional Plus includes the license for SharePoint workspace  which standard doesn't! Office Web Apps only covers the required licenses for Word Web App, Excel Web App, PowerPoint Web App, and OneNote Web App.
Note that Excel Web App is not Excel Services, though they can compliment each other! Excel Services, Word Automation Services, Visio Graphics Service and Access Services are part of SharePoint and licensed with SharePoint , not Office!  For example, to use Excel Services you need to either have SharePoint Enterprise CAL (a.k.a eCAL) or the Enterprise license for Internet sites.
The following table summarizes everything making these murky matters look simpler hopefully:
| | | | | |
| --- | --- | --- | --- | --- |
| | Included in Office 2010 Professional Plus Licensing? | Included in Office 2010 Standard Licensing? | Included in SharePoint Enterprise Licensing? | Included in SharePoint Standard Licensing? |
| Excel Web app | |   | — | — |
| Word Web App | |   | — | — |
| PowerPoint Web App | |   | — | — |
| OneNote Web App | |   | — | — |
| SharePoint Workspace | |   | — | — |
| Visio Graphics Service | — | — |   |   |
| Access Services | — | — |   |   |
| Excel Services | — | — |   |   |
| Word Automation Services | — | — | | |

: Yes

: No
    — : Not Applicable
Another important thing to point out (credit to Craig, see his comment here) is that just because you have Office Pro/Standard licences and install/use Office Web Apps, it only allows those Office licenced users to use the Web Apps. So you shouldn't be using the Office Web Apps in Internet or Extranet situations unless access is limited to only those Office licenced users. One last thing, in order to purchase an eCAL for SharePoint, you already need to be licensed for standard edition of the product just like Lync 2010. Public rant: Microsoft, please please make licensing easier for people to understand!
Two important resources for you to take a look at:
Whatever I have said so far is for Office Web Apps within the security of your corporate firewall. One of the great features of Office Web Apps is that Microsoft offers it as a FREE service as part of their SkyDrive cloud-based storage and file sharing.  Office Web App makes SkyDrive work seamlessly with Microsoft Office files across PC, Mac, Mobile Devices and web.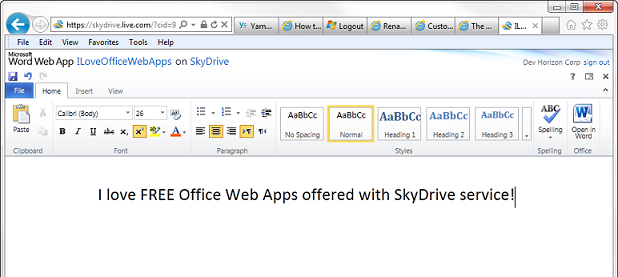 Here is where things get really sexy: Excel Mashup
Make a model available to public or a selected group of people by uploading your model (in a form of an Excel Workbook) on SkyDrive.
Embded your model into your Web Site
Start programming against that model using Excel Client Side Object Model

Here are a few links to compare SkyDrive (and Office Web Apps) with other similar services: